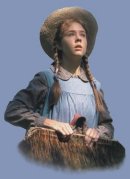 <! ------------------ End Menu -------------------- >

<! ------------------ Start Main -------------------- >
Sounds
Music from the Movies
If you want, you can download the various song clips from Anne of Green Gables and Anne of Green Gables II. I warn you that the files are VERY large, so it will take a while to download. However, I promise you will not be disappointed if you do. NOTE: Due to high traffic on Tripod, you may have trouble downloading these files. If you do, just try again at a later time.

Green Gables Theme Song: Picture Anne driving in the carriage with Matthew. (734KB)
Avonlea: Picture Anne bicycling through town with Gilbert. (649KB)
Reception: Picture Diana getting drunk at tea, or Anne meeting her at the Sunday School Picnic, or picture them at Diana's wedding reception. (1185KB)
Haunted Forest: Picture Anne and Diana walking through the forest, recalling ghost stories. (481KB)


Order the Anne CD

Actual Lines from Anne of Green Gables
All of the sounds below are in .wav format and the size of the file is given so that you can judge how long it will take to download. Just click on a line and you will be on your way to hearing the sounds from the movie.

Anne: I simply couldn't live here if I hadn't any imagingation. 23KB
Rachel: Oh, my afternoon is spoiled! 20KB
Anne: This is the first dream that has ever come true for me. 30KB
Anne: It'll be my life-long sorrow. 24KB
Marilla: Oh, this is a fine kettle of fish. 22KB
Anne: Would you please call me Cordelia? 16KB
Anne: Plain, old, unromantic Anne Shirley. 31KB
Anne: Print out "A-n-n" and it looks absolutely dreadful, but Anne with an "e" is quite distinguished. 60KB
Anne: I'm in the depths of despair. 17KB
Marilla: Matthew Cuthbert, I believe this child has bewitched you. 44KB
Marilla: She could talk a hind leg of a mule. 35KB
Marilla: That girl is next door to a perfect heathen. 30KB
Rachel: Lawful heart! Her hair is as red as carrots! 24KB
Anne: CARROTS! 12KB
Anne: You're a rude, impolite, unfeeling woman, and I hate you! 45KB
Anne: How would you like to have nasty things said about you? How would you like to be told that you're fat and ugly and a sour old gossip? 1MB
Anne: I'd rather die than apologize to Mrs. Lynde. 28KB
Matthew: You don't have to be exactly sorry, you know; you can just be sort of sorry. 56KB
Anne: Wild horses couldn't drag it from me. 34KB
Anne: What I said about you was true too, only I shouldn't have said it. 24KB
Anne: You wouldn't be so cruel as to inflict a life-long sorrow on a poor orphan. 54KB
Anne: A bosom friend; a really kindred spirit. 34KB
Anne: Oh, Marilla, how much you miss. 35KB
Anne: I'd rather look ridiculous with everyone else than plain and sensible all by myself. 42KB
Gilbert: Hey, Carrots! 12KB
Anne: How dare you! 13KB
Anne: He called me Carrots. 16KB
Gilbert: Oh, well at least you're acknowledging me now. That's an improvement. 30KB
Gilbert: Oh, why don't you get off your high horse? 21KB
Anne: I shall walk that ridgepole or perish. 29KB
Anne: Deliciously scared. 17KB
Marilla: Making a little wine for refreshment is far less sinful than meddling in other people's affairs! 71KB
Anne: My heart is broken. 15KB
Anne: I solemnly swear to remain faithful to my bosom friend, Diana Barry, for as long as the sun and the moon shall endure. 104KB
Anne: Wilt thou give me a lock of thy jet black tresses? 36KB
Anne: Henceforth, we must be strangers living side by side, but my heart will be ever faithful to thee. 93KB
Anne: Tomorrow is always fresh with no mistakes in it. 28KB
Miss Stacy: The truth will set you free. 17KB
Anne: I was imagining I was a nun, on my way to the altar to take the vows-- 47KB
Marilla: Oh, stuff and nonsense! 13KB
Anne: DON'T EAT IT, MISS STACY! 35KB
Marilla: Anne, what is wrong with you? 26KB
Anne: I feel as though you've tasted the bitterness of death. 32KB
Anne: There are some things in this world that even I cannot hope to understand. 40KB
Anne: We're such kindred spirits, I can read his thoughts. 24KB
Anne: Some things cannot be expressed in words. 24KB
Anne: This is a wound I shall bear forever. 36KB
Marilla: You'd let her go to the moon, if she had the notion. 24KB
Matthew: That little girl ought to have all the kindness we can give her. 26KB
Anne: You are a man of impeccable taste, Matthew. 25KB
Diana: My, my. Doesn't Gilbert look dashing tonight? 35KB
Anne: Gilbert Blythe would stand on his head for me if I asked him to. 29KB
Anne: Such a romantic gesture would be utterly beyond his imagination. 37KB
Aunt Josephine: Is that any reason to try to kill me in my sleep? 28KB
Diana: She'll eat you alive. 17KB
Aunt Josephine: Come to finish the job? 17KB
Anne: Whereas I am merely an orphan who doesn't know any better. 28KB
Aunt Josephine: Imagination is a threat to life. 30KB
Anne: Mine was the sleep of the bitterly disappointed, Miss Barry. 24KB
Aunt Josephine: You amuse me, and precious little in this world amuses me at my age. 52KB
Miss Stacy: True friends are always together in spirit. 28KB
Gilbert: Ah, I see. Well, then the fact is I rescued you. 38KB
Anne: The fact that you rescued me unnecessarily hardly wipes out past wrongs. 40KB
Gilbert: Seems I'm developing quite a habit of getting you out of awkward situations. 36KB
Anne: I'll be merciless if I fail. 16KB
Diana: You've never failed at anything, Anne Shirley. 24KB
Anne: I am happy Diana, and nothing is going to hold me back. 35KB
Anne: I've become too practical for romance. 21KB
Matthew: I only wanted you from the first day. 35KB
Matthew: I love my little girl. 13KB
Anne: Aren't you worried I'm liable to break another slate over your head? 30KB
Gilbert: I'm more worried I might break one over yours, Carrots. 33KB


<! ------------------ End Main -------------------- >

.
---
Copyright of images contained on this Web site and related to Anne of Green Gables
and all other Sullivan films is owned by Sullivan Entertainment Inc. and
permission to use such images has been granted by Sullivan Entertainment Inc.