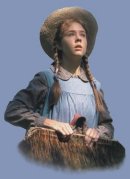 <! ------------------ End Menu -------------------- >

<! ------------------ Start Main -------------------- >
Did You Know... ?
Schuyler Grant (Diana) was orginally the first choice to play Anne. However, many were of the opinion that a Canadian actress should portray her, and so Megan Follows was chosen, despite a "lackluster" first audition.
Megan Follows, whose hair is naturally light brown, used a combination of wigs and hair colouring to portray Anne.
Schuyler Grant, who had short, light brown hair at the time, wore a wig to portray Diana Barry.
Colleen Dewhurst longed to play Marilla. She got her wish!
Dawn Greenhalgh, who plays Mrs. Cadbury, is Megan Follow's mother.
Morgan Capman, who plays Minnie May, is Kevin Sullivan's neice.
Jackie Burroughs, better known for her portrayal of Hetty King on "Road to Avonlea," plays Mrs. Amelia Evans.
Cedric Smith, who plays the Reverend Allen, is better known for his portrayal of Alec King on "Road to Avonlea."
Mag Ruffman, who plays Alice Lawson, is also better known for her "Road to Avonlea" character: Olivia King Dale.
Only 5% of the first two Anne movies were shot in Prince Edward Island. The White Way of Delight, for example, is really an orchard in Ontario.
For the "Anne" scenes filmed at Westfield, the stone walkways were spray painted red to simulate the red roads of Prince Edward Island. Since the filming, many visitors have taken the red stones home as souvenirs, and the chances of finding any of the red stones now are slim. [contributed by Dennis, USA]
The roof of the Green Gables house had to be painted green to look authentic.
Richard Farnsworth, because of scheduling conflicts, had to have a stand-in for various scenes throughout the film. All such occasions acknowledged by the director are listed below and are noted by a purple number. There are two other scenes where it seems that the stand-in was used, but for which I have no "proof": when Matthew walks up the steps to Green Gables when Anne first arrives, and when Matthew hangs out in the background at the beginning of the picnic scene and then goes off with Mr. Barry.

The opening scenes (Anne walking through the woods to Mrs. Hammond's, etc.) were actually some of the last scenes filmed.
Mrs. Hammond's "EAT!" line was totally improvised!
The night scene at the orphanage (when Anne talks to Katie in the window), was actually shot in broad daylight.
Kevin Sullivan does the voice for Mr. Lynde!!
Trudy Grant doubles for Colleen Dewhurst (unavailable at time of filming) during the drive back to the orphanage.
During the scene at the table with Anne says she will apologize to Mrs. Lynde and Marilla tells Matthew, "I knew she would come to her senses...," there is a stand-in (1) for Richard Farnsworth (who was unavailable for filming at that time). The frontward shots of Farnsworth were filmed at a later time.
Anne's apology to Mrs. Lynde was one of the first scenes shot. The first scene shot for the movie was that of Anne and Marilla walking back from the Lyndes after the apology.
In all the scenes where we see Anne from afar (walking down lane alone, twirling in woods, running in grass, etc), Anne is played by another person. Why? Because these base scenes were shot long before the part of Anne was cast.
Colleen Dewhurst absolutely hated to wear a corset. And her least favorite outfit was the green outfit she wears when she tells Matthew that they "can't keep her, liar and a theif."
Colleen Dewhurst ad-libbed the line, "I'll forgive you if you forgive me."
During the shooting of the first day of school for Anne, there was a tornado brewing outside!
During the scene in the woods when Diana tells Anne they can't ever be friends again, it was raining. A tarp was kept above the actresses so they wouldn't get wet. Meanwhile, Megan Follows and Schuyler Grant cried for hours filming that scene. Talk about draining! Then after that, they filmed the (much later in the film) scene when Diana gives Anne the letter from Gilbert about the benefit concert.
Miss Stacey's famous line, "The truth will set you free," was taken from the archway at Victoria College, where portions of the movie were filmed.
When Miss Stacey visits and stays for dinner, there is a double (2) for Richard Farnsworth (again, because he was unavailable for filming at the time). The scenes when we see him smiling were shot later.
A double (3) is also used when Matthew goes to the Barry house with the doctor.
The scene when Matthew drives Anne home after saving Minnie May was shot in the summer. Fun!
The double for Richard Farnsworth was used again when Matthew walked into the Lawson's General Store to buy Anne her dress.
Anne's puffed sleeves were stuffed with paper to make them look puffy enough.
Colleen Dewhurst improved the line, "Twenty pounds of brown sugar."
During the scene at the Christmas ball when Gilbert snubs Anne, notice the man in the background that looks like a Santa Claus. He's an extra that liked to ride his Harley Davidson!
During the Lily Maid scene, the props peope had to pull Anne's boat from underwater so that it would move along the otherwise still pond water. Also, the boat was later pulled ashore with string.
Jonathan Crombie hated having to wear the straw hat that he wears in Lily Maid scene. He thought he looked like Frank Sinatra. (Guess he didn't like that.)
The related scenes when Ruby Gillis, Jane Andrews, and Diana freak out, were shot much, much later.
Surprise, surprise... Richard Farnsworth's double (4) steals another scene: the scene when Anne is found. He puts a coat around her.
The scene between Marilla and Gilbert was shot early in the filming.
Vivian Reis (Mrs. Spencer) suffers from vertigo, and therefore was a bit nervous about getting on the platform to introduce Anne at the White Sands Benefit Concert. Perhaps that is why she grabs for Anne's hand when she decends.
Megan Follows was extremely nervous about her scene when she performed "The Highwayman."
Because it was so windy during the filming of the sunset scene with Anne and Diana, Trudy Grant had to lie down on the ground, holding their dresses down.
Kevin Sullivan's favorite scene is the scene when Marilla comforts a crying Anne after Matthew's death, a scene which, incidentally, was not originally in the script.
<! ------------------ End Main -------------------- >
.
---
Copyright of images contained on this Web site and related to Anne of Green Gables
and all other Sullivan films is owned by Sullivan Entertainment Inc. and
permission to use such images has been granted by Sullivan Entertainment Inc.